Referral Request Submission and Technology
Our Client Portal
We offer our Client Portal to our clients who need two-way communication throughout the referral process. The Client Portal includes live status updates, document additions, messaging, and retrieval of current and historical Reports. We also have the capabilities for other methods to receive your Referral Requests for bulk entry such as FTP and Web Services.
URAC Accreditation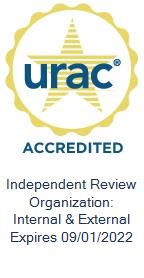 NMR is accredited as a Comprehensive Independent Review Organization by URAC. URAC, an independent, nonprofit organization, promotes health care quality through its accreditation, education and measurement programs. URAC offers a wide range of quality benchmarking programs and services that keep pace with the rapid changes in the health care system and provides a symbol of excellence for organizations to validate their commitment to quality and accountability.
Contact
Location
Network Medical Review Co. Ltd.
4960 East State Street
Rockford, IL 61108
P: (815) 964-6334
F: (815) 964-1162
Using our services is easy with the NMR Client Portal. Contact us to begin using our services today!